Adventurous learning is applied daily to the teaching we offer our students at St. Andrews International School, Green Valley. This exciting approach is easy to adopt in many classes due to the school's unique environment, exceptional facilities and the inquiry-based learning we incorporate into our curriculum.
Green Valley is situated in a beautiful and stimulating environment a short distance from Pattaya on the Eastern Seaboard in Thailand. The school is nestled between the vibrant green landscape of golf courses and pineapple fields, and inviting trails through nearby forests can be seen from classroom windows. Even the views here offer the right stimulus for learning.
The teachers at Green Valley believe in a hands-on approach to how the curriculum is taught to our students, and lessons are often student-led as opposed to more traditional textbook learning. This teaching methodology works perfectly within our incredible premises and when utilising the state of the art amenities available to us. At St Andrews International school, Green Valley we are a champion for the development of 21st-century skills in every child. We believe emphatically that schools need to teach students collaboration, digital literacy, critical thinking, and problem-solving so that they are able to thrive in the modern world.
No where could this thinking be applied more appropriately than on the premises of St. Andrews International School, Green Valley. The study and work spaces available, both inside and outside, lend themselves perfectly for opportunities to collaborate and to work on projects that require 'out of the box' thinking.
At Green Valley we use the outdoors continually as part of every day lessons, even if to simply open the walls of a classroom to bring internal and external spaces together. This is delightfully illustrated within two of our four music studios, where young practicing musicians can take their instruments and stands, and play outside.
Our adventurous learning ethos is particularly relevant within the Green Valley arts programme. The school believes that the study of music, drama, visual arts and dance is extremely beneficial in helping students develop communication skills and a lifelong appreciation of the arts. Arts play an important role in the Green Valley curriculum and student life, and the projects worked on will normally apply some element of adventurous learning in their creative stages and production.
A great example of this was the recent 'promenade drama' performance that involved the audience watching each scene in a different area of the school. Rather than the whole story being told inside one theatre, both the play and the audience would move each time to a new and more unusual stage. This is the perfect case study where students at Green Valley have done things unusually and in an adventurous, engaging, and unique way.
Adventurous learning is not only fun and exciting, it can also help to take children out of their comfort zone, overcome fears and gain self esteem and confidence. It teaches students to work as a team, cope with challenging situations, and most importantly will ensure that everyone will discover something they enjoy and are good at.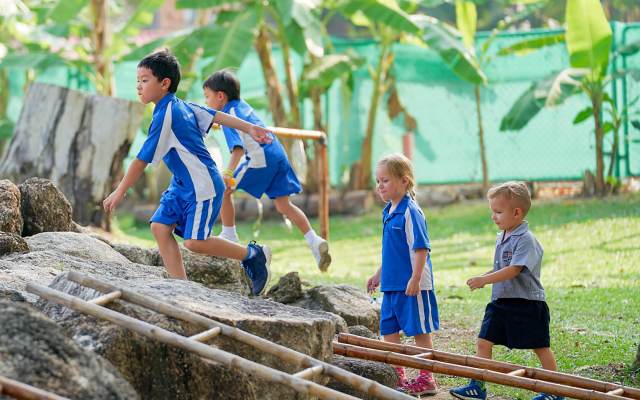 St. Andrews International School, Green Valley
St Andrews International School, Green Valley is an outstanding school with a current enrollment of around 450 students, from over 30 nationalities. We provide a stimulating, child-centred learning environment within a close community family feel, while still offering the opportunities and amenities of a much larger school. For more information about Green Valley