St. Andrews International School, Green Valley – achieving academic excellence in every subject and school year, by exceeding international educational standards.
Past and present students of St. Andrews International School, Green Valley, are familiar with success. The school, located in Green Valley Country Club on the outskirts of Pattaya and Rayong, has a history of achieving excellence in both academic and non-academic activities. Green Valley offers an all-round education for children between 2 and 18 years and has a deserved reputation for encouraging students to be the best they can be, in all areas of their learning.
The school's ideology has repeatedly reaped rewards in the arena of academic excellence, with past students achieving impressive results in examinations across all years and every subject. The most recent results are no exception, and Green Valley's academic accomplishments over the last year have been outstanding.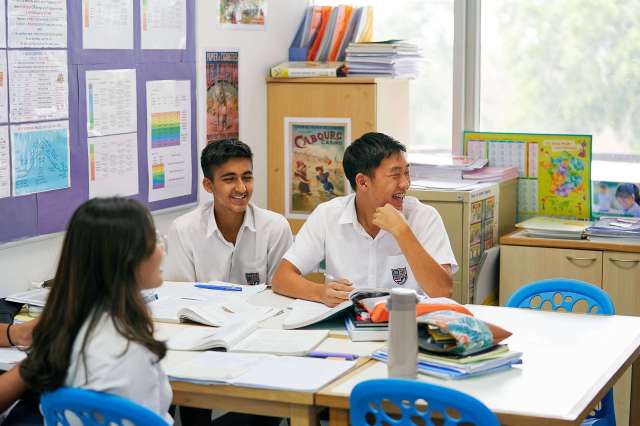 IGCSE Results 
Secondary students in general find commencing IGCSE courses in Years 10 and 11 a challenge, as the workload required is much greater than in year 9. Despiste this, Green Valley students have a strong track record of meeting this test, and IGCSE results achieved by SAIS GV students between 2016 and 2020 show that in comparison to the UK average, they are consistently well in excess of international standards.
IGCSE Accelerated Programmes 
The teaching staff at Green Valley strongly believe that students should be encouraged to take IGCSE exams early if capable of doing so. Normally taken at the end of Year 11, these programmes are offered to children undertaking Year 10 to allow them to accelerate their learning, achieve higher IGCSE and IB results and improve opportunities for University entry.
This years remarkable results included:
Mathematics: seven Year 10 students were entered and all were awarded excellent grades with 100% A* – A (grades of 7 – 9).
Mandarin: four Year 10 students were entered for the Foreign Language exam and all four students were awarded a  grade of A*.
IB Results for 2020 
The IB Diploma Programme is a two year course where students study six subjects; three at higher level and three at standard level. The class of 2020 achieved what is now becoming a proud tradition for Green Valley: a 100% pass rate compared to a world average of 80%. This is the ninth year in a row Green Valley has achieved this incredible result!
For the second time in three years, every full diploma student gained a score higher than the world average, 33.3% were awarded a Bilingual Diploma and four graduates achieved a total diploma score that put them in the top 12% in the world.
National Awards & Outstanding Students
Proving that once again St. Andrews International School, Green Valley is one of the best schools in Thailand for academic excellence, the school has been able to announce the following awards for achieving the highest national mark in exams taken in 2018 – 19:
Top in Thailand Award in English: Munin (Year 13)
Congratulations to Munin, one of our Year 13 students who achieved the Highest Mark in Thailand for IGCSE English in the Summer 2019 exams. Munin joined St Andrews in 2011 and has proved each year that she is one of the hardest workers in the school.
Top in Thailand Award in French: Nadia (Year 11)
Green Valley is very proud of Nadia, a talented linguist who achieved the Highest Mark in Thailand for IGCSE French in the Summer 2019 exams. Amazing work Nadia!
Top in Thailand Award in Science: Foei Foei ( Year 13)
Our inspiring Foei Foei recently graduated from Year 13 after achieving the Highest Mark in Thailand for IGCSE Double Award Science and Top in Thailand Certificate at Pearson Edexcel's Outstanding Learner Awards.
You can view more details about these and other outstanding Green Valley students at the school Academic Results 2019-2020 document.
Green Valley Graduates moving on to University 
One of the most remarkable statistics about St. Andrews International School, Green Valley, is that almost 100% of their students study at university once they graduate. Often travelling overseas to pursue tertiary education, many have been accepted into the Top 50 World Universities (ranked by Times Education). 
These include: University College, London, Kings College London,  University of British Columbia, University of Toronto, University of Melbourne and University of Hong Kong. The  majority of students attend universities overseas: approx. 30% to the UK, 15% to North America, 15% to The  Netherlands, 10% to Australia, 10% to the EU and 10% to Thai Universities – and the most recent group of graduates have made similar choices for their continued education.
Green Valley: Achieving international recognition or academic excellence!
Finalists in the Tournament of Minds competitions
Each year Green Valley successfully competes in the international Tournament of Minds competition and past groups of students have won their categories three times, allowing them to attend the finals in Sydney, Australia. This year is no exception, with the Secondary team winning the Science and Engineering category.
Tournament of Minds (TOM) is a program for all primary and secondary students providing the opportunity to solve challenges that foster creative, divergent thinking whilst developing collaborative enterprise, excellence and teamwork in Arts, Language Literature, Social Sciences and STEM.
Green Valley: Proud of International academic excellence! In recent years, St. Andrews International School, Green Valley has established a culture of academic excellence easily exceeding world averages, and consistently producing results that establish it as the premier International School on the Eastern Seaboard.
Students at Green Valley have numerous opportunities to excel and succeed in academic and non-academic activities. We believe in the importance of achievement and encourage all of our students to be the best they can be.

– Kevin McGee, Head of Secondary
In recent years, Green Valley has established a culture of academic excellence easily outstripping world averages and consistently producing results that establish it as the premier International School on the Eastern Seaboard.

– Andy Harrison, Head of School