At St. Andrews International School, Green Valley, we are inherently concerned with the wellbeing of our students, in addition to their success in the classroom and during exam time. Our school has recognised the need to provide children with an all-round education: one that considers the 'whole child' and take steps to develop their social and emotional skills, in addition to their academic capabilities.
The Green Valley approach to education is important because we know that students with higher levels of wellbeing normally have better self esteem. This innate confidence ensures that children are comfortable at school and home, happier to be challenged in their studies and more likely to have healthier relationships with family, friends and teachers. Research shows that there are clear links between a sense of belonging at school and a feeling of wellbeing towards homelife and academic performance.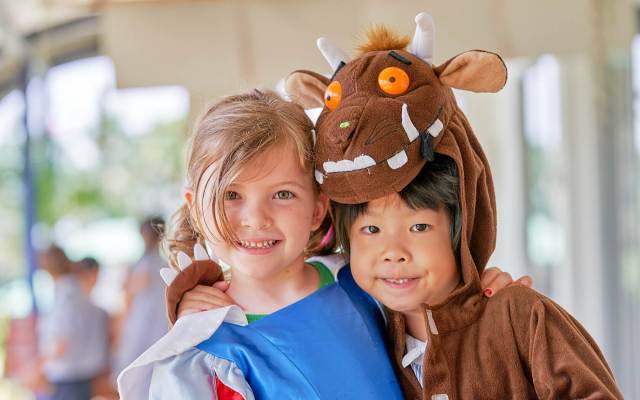 Education has the potential to positively impact well-being through enhancing cognitive, social and emotional skills.

–www.oecd.org/education
Green Valley is a caring school community with a student base that includes over 35 different nationalities. Our teaching staff and administrators know that wellbeing is a fundamental component of the school experience for each and every child in our care.
In addition to ensuring that we promote a balance of studying and non-classroom time in the Green Valley curriculum, we have also implemented a programme of services to provide ongoing support and safeguarding for our students.
Green Valley wellbeing support services
Wellbeing Days & Thankful Thursdays:
Green Valley is proud to be part of the global Cognita family, which ensures that wellbeing is firmly embedded in the culture of our school via regular wellbeing days and Thankful Thursdays – where students celebrate the positive aspects of their home and school lives.
Green Valley follows the Cognita Be Well Charter which lays the foundation for our wellbeing days and sets the perfect framework for events like the recent Global Be Well Day. The annual initiative sees the normal daily curriculum replaced by adventurous and entertaining activities, and students this year were able to explore the school campus by various means including horses, bikes and paddle boards!
Day to day concerns:
Most importantly, every student has access to form tutors and head teachers to report their concerns at any time. Class sizes at Green Valley are small so our highly trained teaching staff have the ability to get to know each child individually and provide personalised support. As all of our teachers are trained in safeguarding they are always available to care for every student and provide helpful support whenever necessary.
Part of the Green Valley curriculum:
Wellbeing is also a part of our curriculum and every student undertakes Personal, Social, Health and Economic (PSHE) lessons once a week. This subject helps children develop the knowledge and skills they need to manage their lives, both now and in the future, by learning about physical and mental health issues and practices like mindfulness.
Counselling services:
A school counsellor is available and attends the premises twice a week during each term. These caring professionals are trained to meet UK standards for support and this important service is free of charge.
Youth Club:
The Green Valley Youth Club provides a space after school where children can destress, unwind and enjoy themselves through a range of games and activities including: smoothie-making, table tennis, mosaics, karaoke and team building pursuits.
Working with parents:
At St. Andrews International School, Green Valley we like to work closely with parents to ensure student wellbeing; we understand that our relationship with every parent is pivotal to the success and happiness of their child at our school.
At the Green Valley Parent Teacher Group parents and teachers play an active role in our community and work together on educational and welfare matters, and to keep alive the diverse cultural traditions of our students.
Parent Teacher Group Goals:
To support and enhance Green Valley programs and to promote and continue to develop community spirit.
To promote camaraderie within the Green Valley community in order to foster a holistic and friendly educational environment for our children.
To provide material and/or volunteer assistance for the benefit of teachers and students within the Green Valley community.