At Green Valley there is a clear understanding of why a curriculum that encompasses international-mindedness alongside an internationally recognised academic rigour is extremely beneficial to children.
St. Andrews International School, Green Valley, uses the British National Curriculum to provide content for the main curriculum taught in the school. However this programme is used alongside the The Primary Years Programme (PYP) and International Baccalaureate (IB) framework to allow for the curriculum to be taught in an engaging way. This ensures Green Valley can offer the ideal educational programme to students, one that incorporates an extensive range of subjects that are taught using hands-on, inquiry-based teaching practices.
Concepts related to international-mindedness:
1. Common humanity
2. Cosmopolitanism
3. Cultural intelligence
4. Global citizenship
5. Global competence
6. Global mindedness
7. Intercultural understanding
8. Omniculturalism
9. Multiliteracies—the First Principle
10. World mindedness, peace and development
International Baccalaureate (IB) study 2013.
Green Valley is a small school where every student is given individual attention and the opportunity to learn in smaller classes, thus gaining the benefits of a personal approach to their education.
Located in the beautiful surroundings of Green Valley near Pattaya, the school's environment is unique and stimulating, and students benefit from the educational, sporting and recreational facilities established on the premises. Here every child is offered the best of international learning and an outstanding all-round education which will prepare them for university and life after school.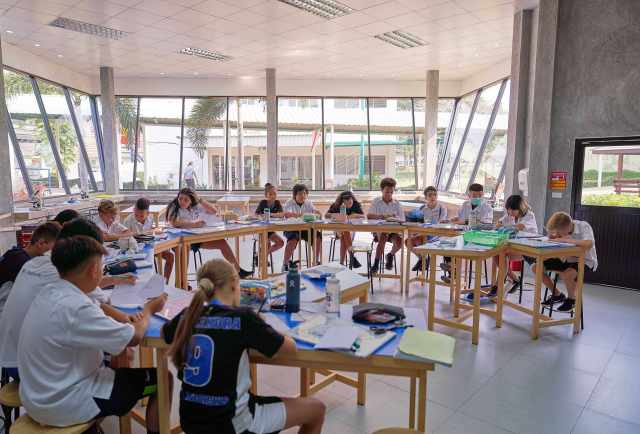 Early Years 2 – 5 years
Green Valley has created the perfect environment in its Early Years Centre where children aged 2 – 5 years can experience their first encounter with education in a fun, safe and happy way. During these informative years the students start to learn through discovery, exploring the world around them and asking questions so that they learn in a meaningful way.
The Experienced Early Years teaching team follows the framework of the International Baccalaureate Primary Years Programme (PYP) integrated with the principles of the UK Early Years Foundation Stage. The children enjoy exploring and interactive learning using a combination of their exciting environment and tools and materials such as sand, water, building blocks, music and paints.
Play and study areas are located indoors, in a large, bright and colorful space, and outside amongst climbing rocks, a playground and green gardens. It is here that the foundations for maths and literacy are implemented and the children can develop motor skills and social interaction from playing games.
Primary Years 5 – 11 years
Children attending Primary School at Green Valley are also learning through discovery and these school years look more closely into developing critical thinking skills. Research projects become an integral part of learning for primary students and it's here that they can utilise technology to enhance their learning and to start becoming familiar with the workplace environment of the 21st Century
Once again students will benefit from the best of international learning via the inquiry-based International Baccalaureate Primary Years Programme (IB PYP) framework which is integrated with the English National Curriculum.
Subjects studied in PYP:
Maths
Language
Science
Social Studies
Physical Education
Arts
Personal
Social & Health Education
All classes are studied simultaneously over a five to six week period with a central theme that ties all of the subjects together. Due to the international status of Green Valley, emphasis is placed on world languages, taught by specialist teachers, and again clear links are established to the curriculum areas being covered in the classroom.
World languages taught in PYP:
Secondary Years 11 to 18 years
Key Stage 3 (Years 7, 8 & ( pupils aged between 11 and 14 years)
During these decisive years of learning, students continue to broadly use the British National Curriculum but one modified to address the many nationalities within the school. Every student will use the English language to process the programme and effective support services and classes are provided for children needing help with English as a second language.
Key Stage 3 covers the following subjects:
English First and Second Language
English Literature
An Additional Language – Thai, French, Dutch or Mandarin
Maths
Science
Art
Music
Physical Education (PE)
History
Geography
Information Communication Technology (ICT)
Personal, Social and Health Education (PSHE)
Drama
Key Stage 3 is a balanced programme where students study a wide range of subjects and gain a solid base of knowledge, which allows them to carefully consider their options for subject choices for Year 10.
Key Stage 4 (Years 10 to 11 pupils aged between 15 and 16 years)
Green Valley offers Cambridge and Edexcel IGCSE: the most popular international qualifications for 14 to 16 year olds, and widely regarded as a passport to progression in education. This two-year course, comprising a core curriculum and additional subjects chosen by the student, culminates in examinations at the completion of Year 11.
Key Stage 4 core subjects include:
Science
English
Maths
Language B
Humanities – students choose one
Additional electives:
The Arts
Humanities
Technology
Physical Education
Recognised internationally as a high quality academic achievement, IGCSE courses are also a logical extension of the key stage 3 curriculum and the ideal preparation before starting on the IB Diploma Programme in Year 12.
Key Stage 5 (Years 12 to 13 pupils aged between 17 and 18 years)
At Green Valley in the final two years of Secondary School students study the International Baccalaureate Diploma Program (IBDP). This is an academically challenging pre-university course recognised internationally by universities worldwide and it is specifically designed to prepare students to be responsible, respectful global citizens.
The Key Stage 5 curriculum has 6 study areas:
Studies in Language and Literature
Language Acquisition
Individuals and Societies
Sciences
Mathematics
The Arts
In the second year of the IBDP students also complete studies under the following 3 areas – Creativity, Activity, Service (CAS); Theory of Knowledge (ToK) and Extended Essay (EE).
Universities do not look to enrol students solely on the basis of their academic results, they are also seeking graduates with an all-round education. The addition of CAS, ToK and EE studies provide a thorough background that challenges students to think beyond the course material, preparing them thoroughly for life at university. The experiences gained through CAS will also offer additional topics that students can include as part of their personal statements when completing their university application.