Every student attending St. Andrews International School, Green Valley, from the age of 5 years, has access to over one hundred extra curricular activities (ECAs) during their daily school life. These incredible school amenities are an integral part of the all-round education services we offer, and cover every pursuit imaginable, including sports, performing arts, debating and design & technology.
Although unmistakably proud of our sports facilities and the schools ongoing sporting achievements, the faculty at Green Valley is equally as celebratory about the non sports-based courses available to our students. A highlight of these ECAs is undoubtedly our extensive arts programme which plays an important role in both the school curriculum and in a child's home life.
Sports
Participating in sports at school is not only about competition and who can jump highest or score the most points on the basketball court. Nor are sports simply good for a child's physical health. When children become involved in sports and group activities they can truly learn many valuable life skills like perseverance, effective communication, sportsmanship and teamwork.
At St. Andrews International School, Green Valley we positively encourage every student to join in with a sports activity that suits their abilities and interests. The benefits that children gain from engaging in these pursuits can help to create well rounded, happy and confident individuals.
Sports programme at Green Valley includes:
Football
Swimming
Basketball
Golf
Horse Riding
Paddleboarding
Volleyball
Netball
Mountain biking
Softball
Athletics
Competitive sports
One of the aspects of school life that makes the Green Valley community so supportive and loyal is the involvement of students in competitive sports,either as a competitor or as an enthusiastic fan – and there is a great deal to support!
Our brilliant Green Valley Panther teams regularly represent Green Valley in football, swimming, basketball and on the track. The teams take part in The Federation of British International Schools in Asia (FOBISIA) – a programme to promote excellence in school sport and one that offers inter-school competitions.
The Green Valley 25m 8 lane competitive swimming pool has hosted teams from FOBISIA, and our football fields are used weekly for local and international tournaments, and our students can play basketball on a covered outdoor court.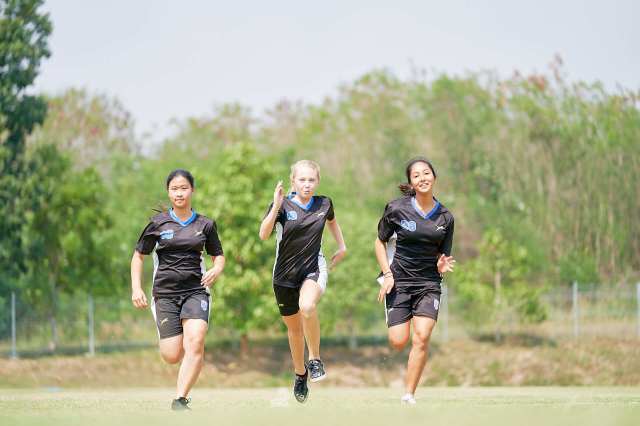 Arts at Green Valley
Our Arts programme allows students to develop creative skills and follow their passions, and these activities can also build great confidence in individuals and a joy for life. Every student takes a part in producing artwork for exhibitions each year and there are many opportunities to become part of a choir, band, orchestra or a school production.
Green Valley offer 100+ ECAs to students including:
Sound & lighting technicians club
Debating club
Coding
Photography
Chess
Music
Costume design
Art
Design & Technology
Collaborative events!
Green Valley is as collaborative in the arts as it is on the sports field and students from all fields of our ECAs roster can become involved in our artistic productions.
When putting on a stage play it's all hands on deck with art students helping to create backdrops and costumes, whilst children from Design & Technology courses will help build sets and set up lighting. During the school year each class will present two student-led shows at the general assembly, performances that allow the children to undertake tasks including script writing, controlling sound and lighting, and music production.
Every year St Andrews International School, Green Valley presents the following artistic shows:
6 Music performances
6 Drama productions
2 Art exhibitions
Green Valley facilities for Arts:
Black Box theatre
Design & Technology workshop,
Music rooms – 2 of which open up into outdoor performance spaces
Art studio
Our learning, sporting and recreational facilities are magnificent, and teaching of the arts is also superbly supported.

– Andrew Harrison – Head of School